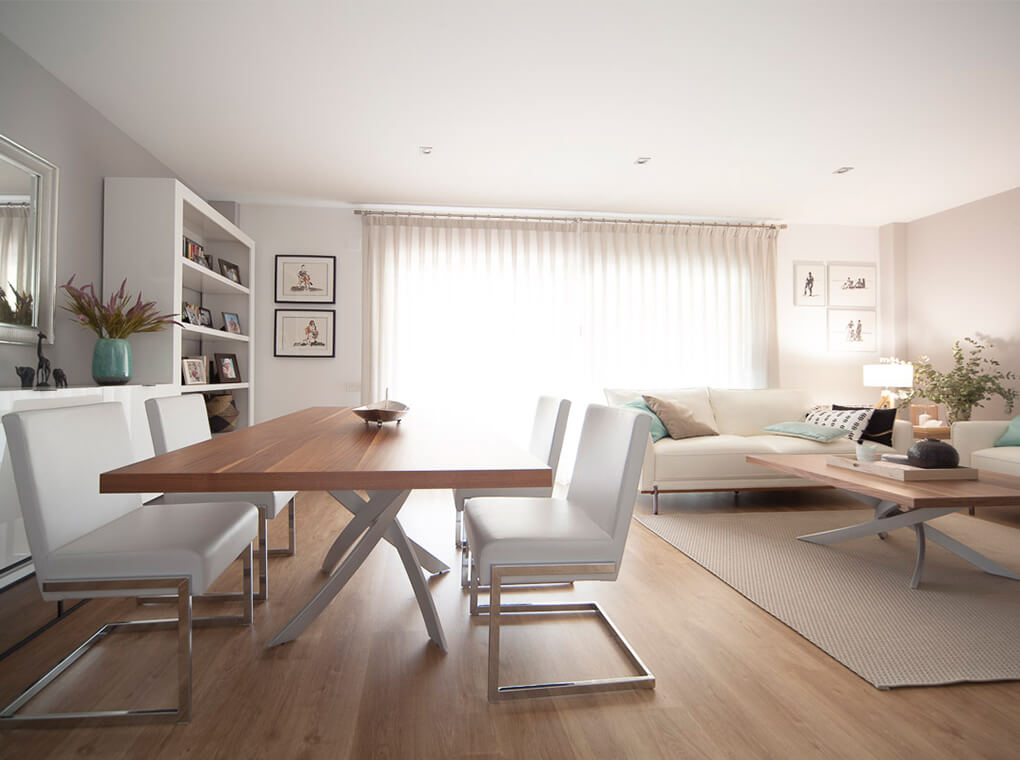 Mediterranean touch in Valencia region
The owners of this terraced house in Xátiva, capital of the Valencia region of La Costera, had a taste for elegant and simple decoration with soft tones to create a warm and welcoming environment. Angel Cerdá wide variety of designs, as well as the possibility to customize many furniture models, made our catalog a perfect tool to transform this house into a bright Mediterranean family home.
The design team of AC guided the owners at all times, offering those models most fit to their vision. The best example of this was the dining room: a cozy and peaceful stay built around two three-seater sofas model 5607-M5651 plus one ottoman, all upholstered in pure white leather on a walnut base. To complete this picture we added a corner table LE543 and coffee table F1143, the later fully customized with a 90x90cm square walnut top  and legs lacquered in matt gray RAL9022, which furthermore matched the dining table F2133, also with a 180x95cm walnut top and RAL9022 matt lacquered legs. The picture was completed with a set of eight F3131 dining chairs upholstered in light gray ACUA-71, and a sideboard CP1411E lacquered in glossy white.
Angel Cerdá large number of references allows our designers to transform rooms and parts of the house with just a couple of touches: the main staircase was filled with hexagonal mirrors HV-MR25 creating an original space, in the children's room we put chairs DC631 upholstered in vivid colors, and in the master bedroom and dressing room, mirrors 136-G2 and CPMR27-V36 were added to increase the feeling of space, as well as two TB0083 bedstools stylishly upholstered in ACUA-75 and DUO-51. In the library we put a coffee table C046 and a chair DC-S084A, as well as a TV sideboard CP1411-TV lacquered in a bright mustard color RAL1032 to play with the different colors of the books. Finally in the guest room two tables TC3805DA with oak top were placed in harmony with the oak floor.
The result has been the dreamed one: a house that distils tranquility and harmony. A modern design full of Mediterranean elegance.